12 August 2005. Simon.
As the summer nights close in and the season draws to its inevitable close, a summary of Wednesday night's debacle against the patsies of the division, Cumberland.
We are all still waiting for the Roaster's report from last week's "home" match against Lambs played at, er, Lambs. I can only tell you two things about that night as I wasn't there. The first is that Sobell
won 4-1. The second is that the courts at Sobell weren't booked and luckily, the Lambs' guys agreed that the match could take place on their courts. Since most of the Sobell team these days are from Lambs, the match was more like Lambs vs Lambs in any case.

Simon, if and when you recover from your sprained toenail, we look forward to receiving the report.

Back to this Wednesday, and I may as well come out with it at the beginning. We were battered. Winston had half threatened to stay around and thank god he didn't. He would have been cussing and swearing, telling us how useless we all are, and he would have been more or less
100% right.

First up was Big Ron, cruelly thrust into the number 1 spot. He actually played quite well in a game that you could hardly describe as aesthetic but bravely went down 3-1. Having achieved the best average of victories in the team last summer, things aren't quite looking so rosy this time round.

Meanwhile, at number 3, Hernan the comeback kid - and how lovely to see him back in Sobell colours - was making good progress against his opponent. His opponent was so out of shape that at one stage, we seriously thought about calling 999. On several occasions he appeared to be on the point of collapse, and I had to give him a conduct warning for the length of his recovery time between points and call a few of his good shots out (only joking). Unfortunately, Hernan too was a bit out
of match practise and he duly told me after the third game (he was 2-1 down at that stage) that he was going to lose. He was right!

Next up and it's me against the experienced Jill Campion (yes a woman). I went 2 love down in about 10 seconds, but recovered to take the third 9-0, and was 8-4 up in the fourth, but then, with the match in my grasp, I completely lost the plot and went down 10-8. I'm not going to blame the marker, Glen, as thank goodness his eyesight has definitely recovered enough for him to have seen the ball clearly at all times, and, as any chivalrous gentleman would have done, he was simply making a bit of an allowance for the fairer sex.

Meanwhile, Eduardo - described rather unfairly by his opponent as "the worst player in the world" was beaten up 3 zip. This meant that he should have written the report but Neythan decided that his English isn't up to it. Listen, Neyth, I get what he's saying. What's your problem? Talking of language difficulties, we may not be the greatest squash team in the world, but hey, we're cosmopolitan. The team on Wednesday was Israel at 1, Cornwall at 2, Spain at 3, Argentina at 4, and myself the only genuine Brit at 5. Last but not least, on went crazy legs at number 2 to try and restore a bit of pride. He was up against "Wacko Jacko" - remember him, teased mercilessly by his own team who affectionately refer to him as "fatty". Neythan, looking lean and hungry, did manage to claw back one game after a slow start but this exertion finished him off and he too went down 3-1.
Only two matches to go before the end of the season and as Neythan's work and family commitments hot up, for one season at least, it's the end of Sobell squash. Hope that after a year off we can find fresh blood or a new captain so as not to let all his good work go to waste.
Pip pip.
-------------------------------------------------------------------------------------------------------------
03 August 2005. Neythan.
Dear All,

The time is nigh to commit or fall..next week we have the fixtures meeting (which is about an hour of fun defining fixtures time for the 05/06 Winter league) before which we must let the league (Norman Wilby) know whether we have a team or not.

As previously stated I won't be able to make this meeting. So it falls to you good chaps to attend, obviously with further implications of whether there will be a team for this and next year. I'm happy to let them know we are attending, also we have already incurred a 50 pound fine for not attending the AGM last month when I was also away...it would be a shame to let the team go.
-------------------------------------------------------------------------------------------------------------
29 July 2005. Simon
When Neythan rang me for my availability this week, I said to him "Why take an out of shape No 5 when I can give you a top-end heavy hitter?". So I called up the Hitman to see if he was up for a match - and a chance to redeem himself after his mysterious disappearance against Lambs - and out we drove to Stockwell, bomb-making factory of the South and home of the heavy guns of South Bank.

On arrival, Steve "way below" Parr was already on court in the number 3 jersey. Those golden oldies amongst you may have recognized his opponent, young Andy Claudet who although not such a spring chicken these days, was formerly Sobell 2 no.1 and is now South Bank club champion. Steve's glazed over look wasn't down to the strength of his opponent but the dread of having to pen the match report, which Neythan cruelly designates to the person who scores least points on the night. In any case, Andy's class told and our man couldn't repeat the miracle of the week before. No disgrace there, his victor is a man who has a victory over WAM in his locker though to this day, Winston still claims that he was experimenting with a new grip that night (that's enough excuses ed!). 1-0 down but things were still looking up. The massive noise created by the strong Sobell support had turned the South Bank into a home away from home. We had big Mo and the Hitman at the top of our team, and 2 new lambs, Marcus a tall Aussie at 4 and Stewart a fit young runner at 5.

Sadly, it was not to be as the new boys both crashed out. Marcus was playing on a court that was so dark that I had to lend him a torch for the third game, and he wasn't enamoured with the home marking either. The games were all close but he was battered 3-0 by a strong opponent. Stewart was fairing slightly better on the show court, holding his own against Wayne, but couldn't keep up his early momentum and was sunk 3-1, and with it the match to South Bank. Meanwhile, both Neyth and I were enjoying the hospitality and supping down our beers, saying how different things could have been if we had been playing 4 and 5! It's an easy game from outside the back of the court.

Now to the big guns. I had to mark Glen's game as the oppos were all in the shower, and he was up against Carl, a fitness freak and heavy hitter. Ominous but nothing Prycey couldn't deal with. But then tragedy! At the beginning of the second game, Carl brushed the hitman's eyebrow with his racquet and the claret began to flow. Game over and my previously unseen first aid skills had to be called upon to help preserve those good looks. He'll be back to fight another day, but somehow or other, I suspect that summer squash may be a thing of the past.

Over to court one and the number ones, where Mohammed "I would rather die" Qadri was battling against Toks, well known to us all from Eastway. This battle - and that's exactly the right description for their game - may not have been top-draw squash, but for entertainment value, I've never seen better. We were literally rolling about in the aisles. First game, Toks takes it comfortably while Mo acclimatises. Then in the second, the fun begins. There's bumping and barging as both players try to dominate the tee, a clash of legs, and with a dramatic flourish Toks throws down his sword and limps off court to complain to his marker (and to have a rest). From then on in, every other point becomes contentious. There's a looseish drop form Mo and yes, Toks is there. It 's a stroke, but to our man??!! God bless the marker! The next point Toks plays a disguised winner to the back of court and Mo is left glued to the tee. We can only guess what they were saying to each other as Toks prepares to serve, but they weren't arranging to go for a beer together on Saturday night. The next point, Mo does reach the ball and it's a winner. He's out of the court in a flash. "You see" he tells the marker, "I can get to the ball". Mo's back in the match now, and after a few more hits he's taken the second game. The third and it's more of the same but with one difference, there's a proper rally. At 5-4, our man's looking knackered but he's keeping his cool! Then Mo gets a nik at the front of court, the ball's died on the spot but yes, Toks is there right behind him. Before the marker has a chance to speak - it must be a let surely - Kenny the Karma, who's there as part of the travelling support, shouts out "It's in the nik, move on". The umpire agrees and repeats the background comment. Mohammed's point, or more properly, Kenny's. Toks explodes. He's losing the plot, his team can't control him, is he going to walk off? Mo takes the third so it's 2-1. Beers become shandies, tears of laughter. Between games, Glen says to Mo "you're tired", this just motivates him even more and it's all over in the fourth, 3-1 to Mohammed and a bit of pride is salvaged at the last.

What a night! I'm still recovering, as thankfully is Glen. No real damage to the eye it seems.
-------------------------------------------------------------------------------------------------------------
13 July 2005. Mohammed.
We tried our best but out best wasn't good enough final score 2-3, a lot of tactics were deployed by referee to win the match for themselves. Nathan dropped the 1st game and pulled it back by 3-1, Antonio lost by 1-3 to Richard, Stephen lost by 1-3, he had enough of the court being too hot. Tim too strong for his opponent by beaten him by 3-1. Only Mohammed lost by 0-3 a lot of decision went against him, good to watch but referee decision was final, I think someone needs to question the referee whether he was watching the match or his mind was in the pub. Keeping his eyes of the ball and thinking of how many pints of beer he's going to miss.

Neythan Hayes wrote:
Nice one.....who can play the rematch at their place this Tuesday?

Having just come back from an endurance training regime ala Rocky III, running around the coast of Cornwall with weights in my backpack, it's good to see that were holding our own in 6th place, above the relegation zone and with 6 games left, ready to climb above the mid table riff raff....
-------------------------------------------------------------------------------------------------------------
06 July 2005. Steve
First things first - get in cos London's got Olympics in 2012 and squash could be instated by then, picture the scene... ......back to current squash affairs...

Top of the league Coolhurst made the short journey to take on lowly El C at the intimidating "Leisure Centre of Dreams", Sobell.

A remarkable game for many reasons; for one thing 10 players got to the club on time, also Rob's playing and Steve's captaincy debut, Mo struggling with his new racket, Dave's season debut, and of course big Ron! Something for everyone...

First on David on one side, big Ron on the other.
David on THE most last-minute of last minute call-ups had just enough time to grab a racket and some kit and get down to Sobell where he found the going tough against a strong Coolhurst 5. Despite chipping away more and more points in each game David fell short of time to get even. 0-3.

Ron meanwhile was on cracking form, hitting decisive winners all over the place to take the first two games. Then he seemed to forget himself for a moment and let the third slip away. Ron returned like a man possessed and dispatched his oppo in the fourth to bring home the bacon. 3-1.

Next up Rob, in karate kid headband was getting the better of Pambos at 3. "Man who catch fly with chopstick accomplish anything". Exactly. Job done. Great debut. 3-0. Meanwhile Steve was starting well on the other side, going one up. Unfortunately the stress of organising team beers, pizza, and losing both keys and wallet got to him and he started on the slippery slope as Joel pushed the pace. Vowing to train like a ninja for the rematch, he defaulted to the mighty Mo to finish the job for El C. 1-3.

Bring on another cliff-hanger, bring on man-mountain, Mohammed!

Mo, clearly not happy with the tension levels created by a 2-2 final string scenario, upped the stakes by going down 2-0. The stage was set, and Mo dug in and began to craft the comeback. Shots got tighter and tighter and he pulled the third back, then whitewashed Richard 9-0 in the fourth. The fifth was a full-on battle and Mo held his nerve to bring it home for the second consecutive home game. 3-2. "It would have been 3-1 if I had the right strings in my racket."

All in, a top win for El C. Time to gear up for the tough away leg next week.
By my reckoning we've won 2 of the last 3 and lost the other 2-3, so we've climbed one league spot to third bottom.
-------------------------------------------------------------------------------------------------------------
30 June 2005. Steve
Tim romped home only dropping one game to ensure he wouldn't be writing this week's report. The relief on his face was obvious. 3-1.

Meanwhile The Roaster was struggling with an ungamely Mr Whippy who played double-handed scoops all over the show and was proving harder to read than JR Tolkien. A deceptive encounter that looked like it would turn in The Roaster's favour but wasn't to be. Steve's disappointment on the balcony only slightly offset by the thought that Simon was now in the hot seat for match report duties.. surely no-one could lose more convincingly than that..hmmm. 0-3.

Then came Big Ron at 4 in indestructable style in a contest that saw Ron follow through from a shot and break his racket in two on his own leg. Stuff of legend. No prisoners or report writing for the big fella this week! 3-0.

Meanwhile two-dot at 3 on the other side started well and took the first game comfortably. His oppo warmed up though and the balance changed in BA's favour. After a good struggle, final score went 1-3 against. Unlucky.

With the match level, Steve "well under" Parr (heck, someone find me a nickname) went on court with Middlesex U19 no.1 and SE England Junior. Little did the young contender realise that he was up against none other than Darlington & Stockton closed U16 Plate losing finalist, 1988 (the very
year he was born). Genuine class. Unfortunately early in the first game and following an assortment of well-punished unforced errors, the young lad steadfastly refused to respect his lanky El Commandante foe and did everything bar hand him the sheet to start the match report. 0-3.

Final score 3-2 to BA.
Close game, could have gone in El C's favour. Don't mean to repeat myself but.. ...we'll do em on the home leg!!
-------------------------------------------------------------------------------------------------------------
27 June 2005. Simon D
No sooner had I arrived, was I rushed on court... en route I bumped into Big Ron sounding confident at 1-0 up already! Boosted by this, I set to work in the #3 spot, only to be let down by the big man, who when we met again, was 2-1 down, me 2-0 up. A 3-0 victory ensued for me, The Roaster
(...still not sure if this is an affectionate nickname or not!!), and a 3-1 defeat at #4 for Ron.

Next up were Steve (#2) and Antonio(#5). Admittedly I can't really pass comment on Antonio's match, as I didn't see any of it, but the fact he had won 3-0 at the stage Steve was only just clawing back to 2-1, goes some way to emphasising 2-dot's dominance. The #2s were meanwhile attempting to dominate each other with their handbags... "but he pushed me" came the cries from the Herts man. The squash gave way to the mind games, and unfortunately for Steve, despite a valiant effort, he went down 2-3.

And so it went to the wire, with all the pressure resting on Mohammed's seemingly broad enough shoulders. He wasn't about to make things easy, not for himself or poor Antonio who was trying desperately to order the pizza for the right time. Our numero Uno came back on court for his 3rd game (2-0 down), stating "I will keep you here as long as I like". He did keep us there a fair while, but for good reason, turning in a gritty display to win 3-2, and having the cheek to finish with a nick!

Next game v British Airways away (29th June, to be confirmed)
-------------------------------------------------------------------------------------------------------------
16 June 2005. Simon.
I think we should definitely stick with the person who scores the least points on the night writes the match report.......After an unexpected recall to action, I'm reporting on this week's match.

For those of you who noticed that there was no news last week, we lost 4-1 at Lambs. The less said about that night the better.....
I arrived first and without so much as a banana or a lucozade, I was shunted onto court. Was it to be a triumphant return to team squash? After cruising into a 4-0 lead in the first game, I thought maybe, but then a lack of match fitness allowed Joe, my surly American opponent, back in and from then on it was downhill all the way to a crushing 3-0 loss.
Still, with Big Ron going well on the next court against Ryan who lurched between killer boasts and his ventilator outside the court door, and with our skipper Crazy Legs apparently in imperious form, Sobell was back in the match, for all of five minutes anyway. With Ron and Ryan, the ball was pinging about on the hot courts in long rallies which ultimately took a greater toll on our man who took the first game but eventually crashed out 1-3. Meanwhile, Crazy Legs' unassailable lead was taking on a different complexion on the show court, with his lanky but skilful opponent picking up drops and staying in the rallies to come back to 2 all. Still, in the fifth, with some vigorous support from the balcony, at 7-6 to the Cumberland man, it was anyone's game even if nerves were beginning to fray and hearts were in mouths, a feeling that only Neythan's play at the end of a long match can induce. Matchball was saved but it was not to be for our leader and his opponent completed his comeback winning 10-8.
Now for the good bit. Young Simon Dissler, another Lambs' recruit with an unusual line in court clothing - the logo on his tshirt was St Mary's Roasters !? - was doing his stuff on the other court. A good find this one, a positive spring chicken, his reach around court and all-round game taking a devastating toll on his opponent, and after a close first game, Cumberland's Simon (yes that was his name too) slipped into oblivion, 3-0 to the Roaster!
Last but not least, Steve Parr in a rare outing in the number one spot against Jacko, affectionately - and quite rightly - called "fatty" by his own boys, even during the match. For the first two games, Steve was out of sorts and looked as though he'd rather be on court with Wacko Jacko, but his game picked up in the third and was close to sneaking it which would have given him a fighting chance. He couldn't quite close it - a 3-0 defeat and the match 4-1 to the banger boys! Can't help thinking that with our very own Sizzler, we would have done better.
We may have lost on court, but we slaughtered them at supper, big Ron downing no less than 3 pieces of creamcake!
Next week we're at home with no Neythan, so how about:-
Brendon
Steve Parr
Ron
Simon D
Antonio
Eddie and I can be in reserve but please get back to Neythan asap if any =
problems or if anyone else is keen to play.
Simon G
-------------------------------------------------------------------------------------------------------------
06 June 2005. Steve
First on, Ron on one-side, The Sizzler on the other.

Ron started well, taking it to the Southbank new-kid and went one up. Unfortunately oppo had not been briefed on the El Commandante rule that no-one but no-one beats big Ron (check the Winter stats)! Petulantly the oppo clawed back a game and stretched ahead to take it 3-1 with some tight
shots. Next time, Ron's gonna get ya!

Meanwhile Sizzler was going for hard hitting Carl on the other side. Moving well he just didn't find the final touches in the unforgiving sauna of a court and was crashed off court 3-0.

After Sizzler came Steve who settled into a steady pace. The ball plain refused to die unlike Steve though, who went down 3-0 after a moderate comeback and some reasonable stuff in the third but just lacking some finish. Post match, someone offered Steve a pearl of wisdom, "that third game was crucial - you really had to win that one..." So much to learn..

Next on was (not Herge's) but Petronzio's adventures of Tin-tin. A shaky start from both players with several mistakes brought the game to 1-1. His oppo with more support on his left knee than the two of them put together on the balcony, then let things slip and Antonio took control, even taking time to showboat his now-much talked about bluff drop-drive thingamyjig shot. (Look out for that one next week!) 3-1 to Sobell.

On the other court, Mohammed was in an epic battle with Will. After a good start Mo went one up, then Will drew one back, Mo took the third, and Will the fourth. Kenny fresh from achilles mayhem at Oakley Park last week, couldn't resist turning out to mark this one and sure enough it delivered the goods. Mohammed "laces" Quadri fell just short in the fifth and ended the match with Sobell's most incredible let ask ever.. as he looked up to explain to the ref just how much of a let it was, there wasn't a single face left in the balcony as howls of laughter came from the 20 people doubled up laughing. 2-3. Unlucky Mo!

Final score: Sobell lost 4-1.
Southbank pretty strong but we'll give them a hard time in the rematch.
FYI: Southbank lost 5-0 at Coolhurst last week, so best dust off those
rackets and get some practice in!!
-------------------------------------------------------------------------------------------------------------
01 June 2005. Neythan.
A quick report of destruction chaos and almost doom.... dragged back from the brink by Liverpool and at the same time Vernon.......
2-0 up away to Oakleigh park it looked an easy cruise to a 5-0 victory.
Brendon went on, looking sure to clean up his opponent and there was little doubt that Kenny was coming back after a usual lacklustre start...boom Liverpool 3-0 down and Kenny was down and out with a suspected achilles, carried off, whilst the Sizzler was losing grip on the other court.
2-2 the match with the final game the No.5's, Vernon having driven to Bristol and back was starting the match like the contents of his chilled food van, whilst his opponent, an Oliver Reed looky-likey was pounding him off the court. Vernon got into his stride only to lose it again going 2-1 down, the 4th was as intense as extra time...Vernon should have clinched it but his whiley opponent came back at 8-8 to have 4 goes at match point. Vernon with some astonishing boasts played his way out of trouble and finally clinched the 4th. The 5th was over in a flash Vernon going down 5-0 but coming back like a scouse whirlwind taking the next 9 points with one hand out and in just enough time to get a pint of shandy and watch the penalty shoot out. Fantastic effort on a tense night....Vernon was so much in shock he let up a large roar of yeeeesssss when AC Milan knocked in their second penalty, much to the amusement of everyone in the bar.

Team this week for the home match against Southbank:
Brendon
Antonio
Steve
Ron

need one more.....

Good Luck!
-------------------------------------------------------------------------------------------------------------
12 May 2005. Neythan
Having now received information on the Winter League and looked at my commitments over the next year, I have come to the conclusion that I will not be able to run/captain the team for the 2005/6 Winter League. Also feel its time for a bit of a break and family affairs are a bit more pressing these days. Obviously would like to play some of the matches, but I wont be able to give it my full commitment so I am hoping to hand the baton over to someone else.
I have detailed the meetings needed for attendance to enter the team for the next winter season below and that the teams mantle can be taken by someone else. If anyone is keen then myself or Paul can give obviously give guidance.
Personally I feel that it would be a shame to lose a team in a very competitive Division 3, we have enough good players now at the Sobell and with the liquidation of Lambs potentially more who would be interested in Team Squash, potentially a team that should now challenge =
to go up to Division 2.
Anyway, to keep the team in the running the following dates have to be attended:

* AGM - Thursday 30th June 2005 7pm at Guinness Sports Club, Twyford Abbey Road, Park Royal tel. 0208 965 4549 (I definitely cant make this as I will be on Holiday)

* Fixtures Meeting - 11th August 2005 7pm at Guinness Sports Club, Twyford Abbey Road, Park Royal tel. 0208 965 4549=20

Final Note:
Looking at the Infrequent Middlesex Newsletter it says that the average number of players used per team is 11, with the lowest number 8.

Our team used 14 players over the season........and cover your eyes now if you don't want to see your stats.....
Comments please....(other than my own patchy performance!)

Played Won Lost %
Mark 11 5 6 45%
Kenny 17 9 8 53%
Brendon 8 5 3 63%
Steve 13 8 5 62%
Neythan 15 6 9 40%
Antonio 10 4 6 40%
Ron 10 7 3 70%
Paul 6 3 3 50%
Andy 1 1 0 100%
John 2 1 1 50%
Hernan 1 1 0 100%
Tim 2 0 2 0%
Alan 2 0 2 0%
Vernon 2 0 2 0%
-------------------------------------------------------------------------------------------------------------
11 May 2005. Neythan.
Squash...Pizza...Beer..mmmmm it must be the Summer League Again!
A year ago since our successful campaign to win Division 3........that's torn it...were in Division 2 now. Should be tough but good squash.

In summary - it a small league of 7 teams so 12 matches between now and mid August. We will be conducting post match refreshments at Willy's. To cover costs of Courts, Pizza and Drinks it will be £15 per match.

Please confirm again if you can/are up for playing.......even better which matches you can play. The first match is Wednesday 25th May Oakleigh Park

Division 2
Cumberland 3
West Herts 1
British Airways 1
Oakleigh Park 1
El Comandante (Sobell)
Coolhurst 2
SouthBank (Acton)
-------------------------------------------------------------------------------------------------------------
08 April 2005. Neythan.
Well the 04/05 Season has finally finished for the Comandante team....and it finished in style. Well almost.....a match against the tricky Temple Fortune team, who once again tried to disrupt things by changing the match time at the last minute.
This ageing team of floating servers and annoyingly accurate volley droppers, makes for a game that everyone thought had been banished from these Isles. But no! At this club this ancient brand of cold court play for the elderly and infirm lives on strong. With both teams points apart and only our position of 5th or 6th to play for we set about this cranky team. (note to next captain: make sure you play this team right at the start or end of the season when the courts are still warm, to give yourself at least a fighting chance!)
First on "the flip a coin to play one" Crazy Legs Hayes... against an extremely bulky and yet obviously 'good in his youth' type player......yes that pattern of serve volley appeared as this team gave us a dose of there very own brand of frustrating and completely pointless play. This was a game based around who could serve best and then poke it to the front and with only one rally (and I use this term loosely) going beyond three shots, the less accurate Hayes went down 3-1.. ooooh but oh so close!
Whilst on the other equally dead court, 2 Dot was up against a chain smoking, cricket jumper Vet, who read 2Dot's game like a ladybird book and had him scuttling to all four corners only to go down 3-2...a bit unlucky!
Steve looking tanned and refreshed after his Hols took a very casual approach to his game, which actually seemed to do the trick....and beating his chap at his own game, he made like a B52 and dropped his way to victory....3-1
The 5th string much to Pauls relief was already won as they had only an illegal stand in....this left the match with some excitement at 2-2. It was down to the final match to decide our league position...
So it was our own celebrity Chef... Big Vern, against the 'oh no not again' cricket jumper wearing opponent. This knitted symbol of doom became quickly apparent as Vernon, moving well and hitting length came into contact with this static volley dropping machine, a game of quick exchanges of style, Vernon was getting to everything and counter dropping to win the points...however the serves and drops got tighter and tighter, forcing a 2-1 lead for the other side. Vernon came back with some gutsy running and forced some mistakes from his man. Level 2-2.....the final game... Blimey! 9-0 with one hand out. Never have I seen such a consistent and deadly combination of lob serves and dinky drops....game over and out to the Temple of Bad Fortune!
Anyway the food was good......although I do think play like that should be limited to Veterans only and not real squash which I thought it was a game of endurance, speed and skill. Sour Grapes....

Well that's it folks. We did ourselves proud in a tricky division... we ended up 5th/6th and should look to going up next season now we have the measure of it.

I have entered a team in the Summer League so will keep you posted of the developments and fixtures.

AND DON'T FORGET END OF SEASON SOBELL OPEN 05 - SATURDAY MAY 14TH
-------------------------------------------------------------------------------------------------------------
01 April 2005. Neythan.
After a blinding run of form, beating the Good the Bad and the Ugly this is the last game of the season..... Away against Temple Fortune next week..the difference between 5th or 6th in the division
Unfortunately another cock up from the temple fortune South African clan means that they got the courts for the wrong night! Tuesday rather than Wednesday....

The team we had so far was....

Mark (possibly) or Kenny but probably away
Steve
Neythan
Antonio
Hernan
Paul


Please let me know if you can still play this Tuesday night...ASAP.
-------------------------------------------------------------------------------------------------------------
23 March 2005. Neythan.
Just got a letter through today about entering a team into the summer league (we got promoted last year so should be a lot tougher). The format is 8 teams per division therefore 14 matches over 5 months, roughly 3 matches per month running from May to September. 5 players per match with 3 Players needing to be registered and after that anyone can play.

The plan would be to run this with the evening meal at Willy's/Comandante, make it a bit more sociable with less stress from the Sobell. However this does mean that the prices can't be as low as they are at present (also Vernon cannot do the food) which would make the cost based upon last season £15 per match (which would include food and beer at Willy as well as covering the away matches and home courts)

Personally I'm up for it as I think the squash would be a good level and it would be fun having a few pints afterwards at the pub.

Anyway let me know if you're interested and if possible how many games you might play.....
-------------------------------------------------------------------------------------------------------------
18 March 2005. Neythan
Last home match of the season....and with only two matches left the Comandante team has been finding its stride again and with 4 straight wins we have risen from the sediment of the division to 7th only 2 points behind the next two teams, one being Uxbridge who have there last match against us. This would be a great one to win....and would secure 5th or 6th place.

The team so far:
Mark
Kenny
Brendon
Neythan
Antonio

Let me know if there's a problem....

On another note, I propose that we run the end of season competition (this time with the possibility of including Vernon's food at WIlly's) on 14th MAY.
Let me know if you have any extreme or useful objections to this... otherwise i will arrange the courts.
-------------------------------------------------------------------------------------------------------------
16 March 2005. Steve
There aren't many words in the dictionary for this one, but here goes...

First on, Paul H fought hard but failed to bamboozle his oppo despite a devastating choice of shorts (not shots) in what turned out to be a tricky contest with Coolhurst's unreasonably nice Simon at 5.

"I've been playing all my life" said Paul over lasagna later in the evening.
"Well you haven't learned much" replied the ever-charitable Brendon between mouthfuls.

Brendon meanwhile took no time or effort in dispatching Pambos Patsalides 3-0 on the opposite court. 6 points in the third flattered Pambos though in fairness it didn't matter because if anyone missed the announcement, Brendon's off to Chicago on a freebie work trip! Nice work if you can get
it (and that goes for the easy game too).

Next on, Steve against huge Geordie grump-meister Johnny. After flayling around in the first and going down 1-0 Steve realised that 15 stone men don't make the most lucid of movers and actually played a ball away from his oppo. Johnny realising he'd been found out promptly went bezerk,
blaming everyone bar his mum for decisions and shots against him.

As the rot set in, Brendon as marker became the focus of abuse. Despite Brendon's recruiting of Simon (Coolhurst) as ref, Johnny had clearly overdosed on conspiracy theories and had decided that Steve, Johnny, Brendon and probably by this stage his mum (wouldn't blame her) were out to
get him and he stormed off court and conceded the match.

15 minutes later Johnny had been "talked down" on the balcony and lucky Steve had the opportunity to continue the match (having first declined Johnny's kind offer of only going back on court if both players marked the game between them..hmm, let me think about that one.)

Steve went back on court (some players wouldn't have) and dispatched the big man comfortably. 3-1 YA BASTAD!!

Meanwhile on the other court Mark was pitted against disarmingly nice Nick in a similar stylie of play. Unfortunately for Nick he hadn't spent Monday night at the ISS comp in Canary Wharf where Mark had decided he was... James Willstrop and was going to dispatch all-comers with brutal efficiency. It turned out to be a close 3-0 featuring a cheeky 10-8 third game but nice Nick travelled up from Portsmouth to no avail. Mark "James Willstrop" Bangs wasn't taking any prisoners! (which is a shame – cos Johnny could do with being locked up.)

Last on Kenny took Mike S apart 3-0 with the loss of only 9 points. Paul had the dubious privilege of marking this one. Again the etiquette of taking the marker's decision as final went down the pan and after the game Paul had to argue the case for a let decision (which frankly could have been a stroke in favour of Kenny) at match ball. Bad Karma for Mike in every way!

Then came Vernon's twist: the king of Caribbean cuisine delivered lasagna! This clearly threw the men of Coolhurst who proceeded to argue amongst themselves over something that had happened a few weeks before. They disappeared into the night arguing about who was right or wrong, with Johnny picking a fight with team mate Simon.

Good result for El Commandante.
All the best to Coolhurst in league 4 next season.
-------------------------------------------------------------------------------------------------------------
11 March 2005. Neythan.
Looking at our great, but not completely unexpected win against the 2nd team in the league... Southgate we have now jumped up two places in the league to 7th out of 11. Were now on the home run with only 4pts between us and 5th place.

So first on in this battle against the officious team from North London, was crazy legs Hayes against his grumpy and somewhat arrogant opponent. Leading the team by example, this was a crunch match at 4, feeling good and looking the part..... he went down 3-0, with the only glimmer of hope in the 3rd when he got to 5pts each, only to loose the match 9-5.
On the opposing court BIG RON the anchorman was doing a demolition job against grumpies twin brother. Leading convincingly 2-0 he lost the 3rd only to regain his winning ways in the 4th to take the match. A consummate performance from the big man. 1-1 and now up to Kenny and Brendon to take up the middle order.
The sizzler was looking extremely sharp in the first game and made his opponent look like a shuffling beginner with his complete control of the game....the question was could he continue this form, in some sharp and extremely long rallies, his opponent was no slouch! The answer was yes and although his confused adversary battled hard in the 3rd to take it to 8-8, our man closed it out in style hitting a cool drop to take the match.
Kenny the Karma had lost the good vibe thang on the other court, looking and sounding like a man with a cross between ADS and tourrettes, who had been eating too much brightly coloured candy, he couldn't keep count of the score and was doing more battle with the marker than his opponent. Losing the first after losing his cool he went on to level the match 1-1, then lost his rag and the 3rd, he got angry and got level 2-2, in the fifth with a change of marker things got no better and with the toys resolutely out of the pram he squandered a 7-3 lead to 7-7 but just managed to hold off his opponents run to take the match 3-2. An uncharacteristic night from chill pill king but he did the job and we had won the match even though many on the opposing team felt he should have been given a conduct warning for his foul language. Final match was the ones and Bangers was up against the Geordie massive, a man who he had convincingly beaten 3-1 in the away leg. With Statler and Waldorf (aka Barry and Winston) muttering on the balcony, only to be told to quieten down and some rogue leisure centre players walking on court during a rally, they played through taking the match to 1-1 and
though his lazy opponent looked tired, Bangers couldn't break through his mans attacking play....with some hard, tight, accurate volleying the game was lost 3-1. But we had already upset the guys who were coming for some easy points......a good result and coming into form at exactly the right time

Looking good with Coolhurst next week (Tuesday at Home) a must win match against the lower team......

The team so far:
Mark
Kenny
Brendon
Steve
Paul

Good Luck
-------------------------------------------------------------------------------------------------------------
03 March 2005. Neythan
Dear Comrades,
In response to everyone's availability and having studied our form against the remaining teams really closely......I have done a few scatter graphs and probability charts and whilst applying the game theory principle, I have found the optimum team selection for our survival in the midst of this exciting relegation battle.
My disclaimer at this point is that everyone needs to be on tip top form and fighting with the dogged determination of the rebel freedom fighters our name eludes to.

So the team so far.....and not necessarily in the order for the day!

08/03/2005 Tuesday Southgate Home Mark? Kenny Brendon Neythan Ron Paul/Antonio
15/03/2005 Tuesday Coolhurst Home Mark? Kenny Brendon Steve Paul Ron/Antonio
22/03/2005 Tuesday Uxbridge Home Mark Kenny Brendon Neythan Antonio
06/04/2005 Wednesday Temple Fortune Away Kenny Steve Neythan Antonio Hernan
I cant get hold of Mark who I think might be away training on a squash sabbatical and so has a question against his name and in case he can't play I have put in possible replacements....
Let me know if there are any changes..
Good Luck
-------------------------------------------------------------------------------------------------------------
25 February 2005. Adam
The DC Division 1 squash league final was on Wednesday....and we won.
I led the way losing my match (3-1) in #4 spot out of four. But what I lack in squash talent I make up for in choosing good team mates. The other three players all won to bring home the title.
I'll send you 'photos of the trophy when we get it.
------------------------------------------------------------------------------------------------------------
24 February 2005. Steve.
First on, the Karma against a fella who's loose understanding of the rules almost wrong-footed the ref's loose understanding of the rules. The scenario: oppo serves and ball comes off the front wall with a wierd sound. Kenny returns serve. Oppo has already stopped playing and awarded himself a
let cos his serve didn't sound right. 3 games and a hat full of Paddington stares/ shouts of "no" from oppo later, Kenny cruised to 3-0. No contest.

Meanwhile Mark was steadily wearing down his racket collection and his opponent on the other court. Club Pro Michael was proving a handful, but Mark fought back in the 3rd after losing 7 points on the trot and being game point down to make it 2-1, then cruise the 4th. 3-1. (Michael was
later heard saying he'd be back to full fitness in a few weeks. Hmm.. sure he said the same after losing 3-1 in the first leg to "Calamity Steve"). Anyway, job well done.

Next on Calamity Steve on one side, Brendan on the other. Steve troubled by absolutely nothing this week and without a decent excuse in his kit bag, continued his recent form and narrowly lost out to a fella who played one shot: a drop onto a cold front wall. Comedy squash indeed. Steve furiously
trying to warm the ball up and get rallying. His oppo trying desperately to keep the ball cold. (After the game oppo placated the seething Steve with some kind words, "that's funny, I never win.") 2-3.

Meanwhile Brendon had done well to track down squash's only cricket jumper-wearing giant in the Middlesex leagues. No problems for Brendon, easily slaying the cricket jumper big man. 3-0. Howzat!

Last on Ron who had been gasping to leave early, was chuffed to bits when his oppo finally rocked up and they got on court at 10.15. With time against him and another of Vernon's wonder-curries cooling down fast, Ron took to the job like a pro. Almost playing the ultimate game in the 3rd (8-0 without oppo serving), Ron let his foot off the gas to give a few consolation points away. 3-0 in record time.

Final score: 4-1 to El Commandante.
-------------------------------------------------------------------------------------------------------------
14 February 2005. Neythan
Ealing away last thursday.... a crunch match hopefully stemming our free fall down the league that had resulted in us being second from bottom and in the relegation zone. This was a game we needed to win. So with a pretty strong squad we faced the challenge....
First there and therefore first up was crazy legs, having regained some match confidence as well as repairing his poor win ratio by playing 5....he despatched his opponent with relative ease 3-0.
Bangers who had the look of Rip van Winkel on a bad nights sleep, was favourite against his seasoned opponent, having taken the first, he wobbled to lose the 2nd and waking up a little managed to increase the pressure and take the next two. 3-1
2-0 up and then the cavalry arrived.....the Sizzler going on and taking his opponent out clean 3-0. Winning the match but with points to play for, 2 Dot and The Karma went on....both went down 2-0 in less than 20 minutes!
2 Dot up against a guy with a girl's name, was struggling not only with his opponents masculinity but also with his 80% record of hitting the nick off the serve. Hanging in there and waiting for the Frenchmen to start blowing cold he managed to claw his way into the match and with continued gutsiness levelled the match at 2-2. Unfortunately the Frenchman started to find his killer touch again and took the match 3-2.
Kenny the Karma with some mid match coaching from the Sizzler also managed to turn his match round and in finding some good length and going short at the right moments began to take his opponent apart. 3-2 to us.

A great performance taking 6 points away and turning our fortunes around.

Having played the top 3 teams twice in the last 6 games we should now try and win all the remaining matches (all but one are at home). There is no match this week but a big one next Tuesday against the league whipping boys, Portobello Green and we need the points.

At the moment we have:
Mark
Neyth
Kenny
Steve
-------------------------------------------------------------------------------------------------------------
04 February 2005. Neythan.
This was going to be a match to win, against one of the top teams in the division who probably have a fairly good chance of promotion. Charing Cross who had beaten us 4-1 less than a month ago looked at a similar strength but we were confident that we could have them.
First up was the Crazy Leg and Stevey P's combo at 5 & 4. After a loose start Crazy Legs managed to keep control of the match winning the first and then managing to weather some gorillas attempt to chuck the team off the courts...as well as heated discussions from some unsuspecting punter and aquaterra management. Keeping his cool he cruised to a 3-0 win.
On the other court the dark forces were at work and there Stevies match mirrored the exact opposite (although his opponent was obviously better) losing 3-0
One a piece and playing in reverse order 2 The Sizzler & 3 The Karma jumped on court to make some headway... the Sizzler never really getting into the match went down 3-0, the big K on opposing court had the measure of his stretchy opponent.
This led to an exiting finale between the No.1's who seemed well matched if not in style then in ability. Bangers got off to an appalling start going 7-0 down in the first but his opponent got rattled by a call and with some outstanding heckling from the Balcony allowed Bangers to get back into the match and steal the first game 9-7. The 2nd went a similar way and things looked good at 2-0 to us. However his portly opponent wasn't giving up so easily and with some good touch play and killer nicks clawed his way back into the match 2-2. It was not to be for our man, for even with an incredible amount of retrieving and running he couldn't close out the game. Great match to watch and an exciting finale....
So to the crunch match of next week.....a decider to get us out of the relegation zone. Ealing Away....

so far we have:
Mark
Kenny
Brendon
Neyth
Steve

Also I need to get some people names signed up to England Squash, this is paid for by the Sobell all I need is your home addresses as you will be sent a free copy of Squashplayer magazine as well.
-------------------------------------------------------------------------------------------------------------
30 January 2005. Paul.
Let me paint you a picture gentlemen, more Munch than Matisse.
Ron and Hernan go on first, both go 2-0 up drop the next and win in 4 (Hernan leaves blood on the court of course (his)).
El Commandante cruising to a repeat of the home match 5-0 scoreline.
Paul and Stevie on next, they got 12 points between them in a magnificent display of how to play croquet.
Kenny last - finally got going in the third - went down 3-0
That's it folks - you'll find me, very grey and powdery, in a jar on my mantlepiece.
Goodbye
-------------------------------------------------------------------------------------------------------------
19 January 2005. Neythan.
No match report last week, suffice to say it wasn't the flying start to the 2005 season, going down 4-1 to a pretty good Charing Cross side......and so to the match last night against Cumberland. On paper
they had not lost a match and had only dropped 6 games! Cant be that good surely....we were sporting a strong side and could give them a run for their money. Unfortunately didn't turn out like that and we went down 4-1 to the sausages from North London.

First up was the Bangers against the Pakistan No. 6 U19...playing at an extreme pace this boy had squash in is genes (being related to Hiddy Jahan that is: if you google his name you get 'The hardest hitter of a squash ball in his time, he maintained a place in the world top 5 for a decade, despite being overshadowed by Zaman and Hunt. Bangers pushed him close though but was pipped 10-8, 10-8 in the 2nd and 3rd respectively to go down an gutsy 3-0.
Steve on the other court was running, but found that his warm-up was longer than his match, as his 'the lazy shotmaker' opponent was actually making his shots. 3-0 to them.
Crazy Legs Hayes, playing 5 was up against a hard hitter and at an extremely fast pace, managed to weather the storm of losing the 1st to come back and take the next 3.
The Sizzler now had the chance to square the match, but quickly found himself 2-0 and 8-3 down against the grinning northerner...with great steel and some brilliant lobs he came back at his man 8-8 and after some tense hand outs took the third. Unfortunately he couldn't keep the momentum
and lost the 4th. 3-1
Last on was Kenny the Karma proclaiming that the planets weren't aligned right and his shoulder hurt, he started at a disturbingly fast pace. On paper he should have taken his opponent, a bit of a clumsy left hander, quite easily. Losing the first he got in the groove and went 2-1 up. However his opponent who was as determined as he was abrasive upped the pace and took the 4th 9-3. With an uncharacteristic loss of concentration Kenny blew the 5th 9-0..... going down 3-2.

Overall a 'should have won/could have won' from a team who hadn't really been playing over the last month. However it does now look like we need to start winning a few......

So next match pressure is now resting on Paul, who's last outing
resulted in a 5-0 victory over Princes and our last win!!!

And guess what, its against Princes away Wednesday 26th

Team we have so far
Kenny (to confirm)
Steve
Ron
Paul
Hernan

Good Luck Chaps
As I'm away could you let me know if your available for the return
against Charing Cross at home.
On another note
I'm going to book some tickets for the Canary Wharf tournament for the
end of the season. 14th - 18th March

After speaking to Tim (the organiser) he recommended the Wednesday to
see 4 matches and getting good seats.
Wednesday March 24th =A320-25 play starts at 6pm.
You will see four matches amounts the best in the world 6-10pm
Let me know if your interested...
-------------------------------------------------------------------------------------------------------------
09 December 2004. Neythan.
As the Christmas jingle nears we have (or have we) turned the corner, catching up on a few lost games and trying to re-establish ourselves in the league. Having come from 2nd bottom we are now a very tight 4th in a division resembling a game of snakes and ladders.
Things perhaps didn't turn out as expected in the last two games especially after our glorious 5-0 victory against Princes.
Firstly a strange visit to Vale Farm which wasn't Vale Farm, as it was Fungus the bogeyman courts' round the corner, ...quite genuinely the worst courts I have ever played on....'unplayable' was the kindest thing said. We (Steve) managed to scrape one point from that match, as they also brought out a ringer genuinely from Peshawar AF1 team..... the courts were more like bidet than parquet. The rest of the matches not worth reporting!
And to Tuesday's match against the tricky Temple Fortune....a bunch of Vets with more drops than a loaded pipette...and boy did they use them.
Steve once again outstretched his opponent with his invincible...esque antics. There's no stopping this man....7 out of 8.
Hayes performed badly to begin with going 2-0 down managed to raise his game against his lanky opponent coming back 2-1 and 6 points in front only to throw it all away with some extremely poor play. Obviously reeling badly against his lost ladder match to 2 dot the night before.
Antonio's opponent was literally wheeled in and wheeled out as he didn't
even break a sweat winning 3-0.
2-1 up with Kenny and Mark to go on we were looking in good shape....
Kenny lost the first 9-0. looking like the usual warm-up, got into the game halfway through the 2nd....started to fire with some amazing rallies and retrieving which unsettled his opponent levelled the match at 2-2 and seemed to be in control in the 5th getting to 8-5 up quite conformably....match over surely...with more steel than a calypso player he came back and Kenny let him in with some uncharacteristic play....drops and reverse boasts, 8-8 set 2 he gained control only to be
squeezed out with some good touch play. Match was levelled at 2-2.
Bangers on court was absolutely destroying his opponent with only one hand out he won the first 9-0. However to explain his opponents turnaround without mentioning drugs would be impossible. To quote the opposition after the match 'I really didn't think I was going to win that'. Bangers was under a lot of pressure in what seemed like a purple patch that would surely pass, but this guy kept it going to the end winning 3-1.

I think we'll get them on the return.

Last match of 2004 against Cumberland....these guys haven't lost a match and have only dropped 6 games out of 45. Nobody can catch them and we are vying with everyone else for second place and automatic promotion.
Bring it on.....
Who I have so far...
Mark
Kenny
Steve
Antonio
Neyth
-------------------------------------------------------------------------------------------------------------
02 December 2004. Neythan.
So just hours before another match in the tight winter schedule, a quick match report of the good pace set by the first leg team.....Jumping 3 places back into contention 2 points behind 2nd in the league.
This was a great team performance everyone on fine form pulling all the stops out...no one man of the match although Ron's and Kenny's performance were particularly admiral, as was Andy's on his first match in the winter...
First on was Andy C with a convincing 3-0 victory, he went through his opponant, as he put it.... 'like a dose of salts'. On the opposing court was crazy legs facing the opposing teams' captain, also a wonky left hander!...under pressure not to let the team down, he pulled the first game back from 8-6 down to take it 10-9...there was no stopping him now, he cruised to a 3-0 win.
2-0 up in 30 minutes too good to be true and looking like we might achieve a score other than 3-2...
Big Ron was up against it though.....stepping up to the mark at no.2 he looked in trouble losing the first game 9-1 with only 2 hand outs. However with more steel than a Sheffield cutlery store he stuck to the game plan, taking the ball early and hitting good length he forced his fast paced opponent to the limit and broke back winning the 2nd 10-9. This was it, he'd found his stride and pasted his opponent to the back wall in the next two. A stunning piece of resilience and riding the storm...we had won the match.
Kenny looked in similar trouble in the first game against their no.1 shotmaker who had played for Kenya in the last commonwealth games. He lost it with about 2 hand outs, unfortunately this time it wasn't about the Karma's game, just that his tubby opponent was sending him in all directions but the right one. But for what his opponent had in shots Kenny had in speed and patience and forced some mistakes and managed to level the match. The game progressed to 2-2, looking like it would go to
the wire. It didn't disappoint....Kenny saved a number of match points 8-6 down in the fifth...some amazing rallies and he'd levelled the match. His opponent calling a JP set one.... Kenny took a simple drop to win the match by one point! A great game of opposing styles.
Finally up the 'Bandanna' . Looking more determined than grizzly Adams... the red mist descended and after a frantic two games and the C word, he was trailing 2-0! Luckily for Andy who was marking, he came back to planet earth and rebounding like he'd been on a bad trip, he began to outplay his opponent who had no response to his more controlled game.a good win to secure the 5-0 victory.

Can the 2nd leg tonight be as good as this.....
The usual suspects tonight and order for tonight are:
Kenny, Steve, Neythan, Ron, Antonio
-------------------------------------------------------------------------------------------------------------
26 November 2004. Neythan.
Next week is a bonanza of matches and a chance to pull ourselves back into contention in the league.......I know, having played last night that I obviously peaked to late for our competition, so am looking forward to taking it out on some North London riff raff.

Tuesday 30th November - Home against PrincesThey are absolutely level on points with us and having come from the bottom of the table could be a danger. However, word has it that they
travel about as well as Swiss Wine so me could break new ground and not have a 3-2 result!
Team so far: Kenny, Neythan, Ron, Antonio, Andy

Thursday 2nd December - Away against Vale Farm. Vale farm are losing ground at the bottom of the table, but when we played them only a month ago, they pushed us to a tight victory with our
strongest team...could be a banana skin?
Team so far: Kenny, Steve, Neythan, Antonio, Paul

Let me know if you cant make it I have also enclosed an updated file for anyone to put themselves down for future matches etc.etc.
-------------------------------------------------------------------------------------------------------------
25 November 2004. Neythan.
Dear All,

We have had to rearrange the first (home) match of the season which was cancelled.....unfortunately the only date we could confirm with the opposing team was Tuesday 30th November....which means there is two matches in one week, as there is an away match on the Thursday 2nd Dec.

I know this is a pain....but could you let me know who wants to play on the Tuesday and/or Thursday? At the moment I don't really have anyone pencilled in for either....but seeing as we have such a big squad we should be alright?

On another note.. we are doing the presentation of the Sobell Open competition trophies at the El Comandante pub this Saturday, where we will also present the very shiny, large and impressive Summer League Division 3 winning trophy to Willy (the team mascot), to put on public
view for the year, before he has to return it to the Middlesex league.

Hopefully see you there
------------------------------------------------------------------------------------------------------------
19 November 2004. Steve
Another tight one for El Commandante up at Coolhurst.

Coolhurst's unsporting efforts to hide the entire club and prime the locals to send all lost squash players the wrong way failed miserably and all 5 Commandantes made it in good time. Game on!
First on, Antonio Petronzio v Pambos Patsalides.. squash's longest awaited/longest named clash. 2 dot playing at 3 on the show court rose to the occasion and dispatched his oppo 3-1. Cometh the man.. blah blah
Then at 2 Stevie P playing the sick note string for the second game in a row, was suffering a life-controlling case of the squits. Fortunately he managed just enough time away from the porcelain bus to squeeze out a satisfying 3-1. Aaah.
Next up Tim playing at 4 found the going hard against Coolhurst's resident geordie big man and lost out 3-0. What ya mean, y'av never had beans in a cup?
John meanwhile at 5 was getting busy setting the world record for consecutive boasts from the front whilst running his legs clean off in a
humdinger that could've gone either way. 3-2 to Coolhurst. Close.
On came the Karma. Kenny left in the driving seat of the dodgy El Commandante bus. Game went one way, went the other with some tasty stroke play and Kenny's usual "Colin Jacks" fitness-levels. Then some bizarre ref decisions in the final game caused complete confusion (balls that were down were up, balls that were up were down, one decision was reversed after audience heckling) and
Coolhurst fella slipped through to win it 3-2.
Quote of the night:
"If it's any consolation, I'll win the Sobell Open on Saturday" Kenny
Other quotes:
"So I'll be winning 4 games to win the comp on Saturday" Brendan
"I quite fancy my chances on Saturday" Anon

Good team game. We'll take 'em on the home leg.
See you Saturday.
------------------------------------------------------------------------------------------------------------------------------------
05 November 2004. Neythan
As our commander in chief Crazy Legs Hayes is away practising his "wax on" "wax off" in the Peshawar hills, it is left to 2 dot Petronzio to report on what was our first of the toughies in the championship so far.

First on was Stevey P against an opponent so sick that night nurse was his source of refreshment between games. Steve took the first game 10-9 in what was looking like the match of the night, but as the night nurse kicked in he lost the next 3 after some relentless nicks from sick boy. I don't know about sick boy....but Steve came off feeling very ill?

Next up was Kenny the karma king sporting a hairline crack in his racquet. Undeterred he was playing it cool in the first game, he was sussing his player out with some long rallies and tight play but eventually losing it 9-7. With the knowledge in place he stepped up his play and took the next to even it 1-1, however by this time the hairline crack in Kenny's racquet had escalated into looking something like Djibril Cisse's leg at blackburn....not a good situation for a racquet or a leg. Kenny lost the next two making it 2-0 to Southgate.

It was up to Bangers to keep hope alive for the Comandante, and he didn't disappoint! He played some classic squash using shear power to bore his opponent off the court, he comfortably won the match 3-1.

2 dot Petronzio was next and played the shortest man in Middlesex, 2 dot totally underestimated the speed of the little one, he was faster than a rat in Dalston Market, and began an onslaught of pick ups and volleys that left 2 dot feeling like a 1 dot.....3-0 to ratty and match to Southgate.

Finally it was up to Big Ron in the eleventh hour to salvage the points and our dignity. They were tightly matched as Big Ron took the first game 10-9 in a staggering 20 mins, it looked like we were in for a long night. During the second game Big Bon went down cradling an injured arm with cries of help to the onlooking crowd, it looked all over....but in true WWF spirit he put his pain aside, picked up his 2x4 and crushed his opponent in 2 games, winning 3-0....Axesaw Jim Duggan would of been proud!

3-2 to Southgate.
----------------------------------------------------------------------------------------------------------------
28 October 2004. Neythan
Another tight squeeze for the Comandantes against the Ealing team winning 3-2 in the 5th..this division is definitely looking stronger than first imagined, but this win keeps us in contention of the top, with the Cumberland gang running out in front, having not lost a match.

Crazy legs hayes was first up and after taking the 1st game, slowed down dramatically, lost the next two and made a complete shambles of the 4th, losing disappointingly 3-1. Having lost 3 out of the first 4 this man needs some squash therapy......
Stevey P's made hard work against his opponent but after a long and hard fought bunch of games, at 2-2 he showed some steely reserve and with some remarkable retrieving he came back from 5-1 down, to take the match 3-2 and level the tie
Big Ron wasn't in the mood for messing about, pummelling his opponent 9-1 in the first , he didn't let up and won the next 2 in similar fashion. Bangers on at one, looked to take a good first game, winning convincingly 9-1, little did he know what his opponent had in store.....after a collection of tight drops and testing drops, good anticipation, combined with taking the ball very early, his opponent came back and took a 2-1 lead over an incredulous Comandante. He'd been drawn into a touchy feely game that he blatantly didn't like.... speeding the game up and applying the rule of power over finesse, Bangers squared the match 2-2. surely this signalled his opponents time was up! But no, this man was harder to break down than a travel cot and hung on to beat Bangers 9-6 in the 5th.
Finally it was down the Kenny to tip the match.....never before have anyone seen The Karma spring into action so keenly, without even time to breath he'd won the first game and continued.....taking his man apart 3-0.
Another 3-2 win for the Comandantes.

So it looks as though every game is going to count in this league.....consequently I'm taking a one months squash sabbatical in the hills of Peshawar, to train with the greats of a by-gone era, hopefully returning with a Zen like attitude to the finer points of the game in late November.
The next two are toughies......
Next Tuesday Nov 2nd against Southgate Away - Waterfall Road N14 7JZ
So Far we have: Mark, Kenny, Steve, Ron, Antonio

Thursday Nov 18th Coolhurst Away - Coolhurst Road N8 8EY
So Far we have: Kenny, Steve, Ron, Tim, Hernan

Ive enclosed the fixtures again for anyone to give me details of when and where they want to play. So let me know.
Good Luck
-----------------------------------------------------------------------------------------------------------------------------
21 October 2004. Neythan
Not a great night for the Comandante's......
It looked particularly bad on turning up and finding that most of the opponents were under 17.
Things got underway with Big Ron battling out on court with a sharp playing teenage girl. The first game was too close to call going 10-9 to Uxbridge, Ron looked as though he was about to break through, but with 'home style' marking and the girls deft touch there was no comeback and he went down in three.
The other court showed a different story, as 'Magic Potion' John was containing a lob and drop meister. Winning the first, losing the 2nd, he cruised through 3-1 to square the match. A great debut for the team.
Crazy Legs Hayes had problems from the start against his portly opponent and went down in 3 embarrassingly only getting 5 points...
Meanwhile at one, Kenny was up against a glitzy shoes wearing teen, whose teenage confidence Kenny never challenged... going down in three, but at least getting 5 point's more than Hayes in the process.
So down to the 'Bandanna' to save some dignity for the comandantes....and what a 'great' match.... certainly never a dull moment with 'the bandanna' on court. Turning up with his 2nd choice kit he went down 2-0 faster than titanic only to be rescued with a dose of nonchalance and sheer dare devil tactics....saving a number of match points he came back 10-9, 10-9 to square things. Unstoppable he mounted what seemed like an unassailable lead at 5-1... throwing points away here and there he managed to regain his composure to win..... a mighty comeback!
This puts us mid table in reach of the top team but needing a few strong victories to stay in touch......

Next match: Tuesday 26th Home against Ealing.....

Team we have so far:
Mark Kenny Steve Neythan Ron

again let me know which one you want to play and I'll put you in....

Put Saturday 20th Nov in the diary - Sobell Open Squash Championship
----------------------------------------------------------------------------------------------------------------
13 October 2004. Neythan
First home match of the season against what looked like the whipping boys of the division...Vale Farm. We were looking to pick up full points here...oh how wrong we were!
Steve looking for an easy game came up against a man with the touch to be reckoned with, 1-0 down and complaining that dropping from the back was cheating he managed to level the match and stay with his opponent to push the match into a 5th and deciding game.....and what a finale, going all the way Steve managed to hold to win 10-9...a great match.

Crazy Legs Hayes his usual erratic self, swung from completely out of it, to totally dominating the game, to losing strings of points. Finally losing 3-1 against his surprised opponent
Next up The Banadana Howard...after a poor start he managed to confuse his opponent with whirlwind of drops, cagey volleys and half court showboating, levelling the match 1-1. but definitely not firing on all cylinders he went down in the next 2 losing 3-1.....
Not going to plan we needed to win the last 2....Kenny looked his usual laid back self, but got off to a flyer...winning the first two games, seemingly not believing it himself he lost the next, but recovered to
win 3-1.
Finally the decider down to the No.1's....Bangers however had been recovering from a gruelling run of games in the Surrey Counties, but with this excuse in hand he managed to take the advantage over his whippy and slightly unorthodox opponent. He gave him a run for his money setting to 9 in the 2nd.....but the thought of missing Vernons food was too much and he won it in three. Match to Sobell 3-2.....a close run thing and apparently not their strongest side.

Next match Wednesday 20th Away against Uxbridge
The team so far:
Kenny, Neythan, Ron, Antonio, Paul

We are looking at dates to run a Pre Christmas Sobell Open Tournament the 20th or the 27th November.
Briefly "to quote Winston", there will be 2 competitions; A and B. The "A" will include players from the Premier to Div/3 and the "B" will cater for players from Div/4 to Div/10.
Games will be the best of 3. Scoring is to 11pts each game, using the PARS (point-a-rally-system). In this system, EVERY POINT COUNTS, regardless of who's serving. At 10-10 (if a tie-break occurs) a player wins a game(match) by going 2 pts clear of his opponents score. (i.e 10-10, 11-10, 12-10.........it COULD be 21-23......or higher....... if players can't win 2 consecutive points to go clear !!)
I'll keep you posted.
----------------------------------------------------------------------------------------------------------------
07 September 2004.
Dear All,

This is my view on the winter squash situation........
We have been given a few options (more on that later) by the Sobell which does not involve price changes for the courts or any flexibility on the of when the centre will shut. Two main areas they have tried to help us on have been:
1) Free courts for the running of a competition - proceeds could be used to subsidise the team.
2) Free courts for the 10-10.40pm sessions - this will make no difference to the cost as in the summer we only paid to 10pm anyway....it will however make our lives easier as in the winter these courts can be booked.

Based on these points I believe we have 2 options to try and get the
most out of the Sobell and satisfy our needs. Costings are based on a
home and an away collection therefore each total is divided by 10.
Option 1
We try and play and eat at the Sobell in an attempt to reduce costs to £10 per match.
To do this we will need to start earlier and use the free courts the centre have allowed us and make sure we finish in time to have a proper meal without the agro of being thrown out at 11pm. We need to be eating at 10.30 to do this. Presently, I don't think we use the courts we have to the best of our advantage. We tend to start playing around 7.45 -8pm and the courts are booked from 7.20pm. To manage this I think we can ask the opposing team and our team to be at the Sobell by 7pm to get changed and ready to go on court by 7.20. Additionally to this we can only offer tap water from jugs during the match. Food would be done by Vernon and this would be supplied in the Boardroom via the hotplate.
Costing
=£48 for courts (8x=£6=£48)
=£5 balls
=£32 food
=£15 Drinks
Total =£100

Option 2
We play at Sobell and eat at Willy's keeping a fixed amount on drinks at the bar (average for the summer has been £50). Realistically we're looking at =£15 per match especially if we want to start at the usual time of 7.20pm.....
Costing:
£36 for courts (6x=£6=£36)
£5 ball
£32 food
£50 drinks (limited)
Total £123

My feeling is that in many ways I would rather run it at Willy's because it is more fun, but it is expensive in comparison to previous costs. I don't want to exclude people by making it too expensive. I'd welcome your views on it as I will only be able to play about 70% of the match this needs to be a team decision....
Remember it's a long season.....

Let me know your thoughts.
----------------------------------------------------------------------------------------------------------------
01 September 2004. Neythan.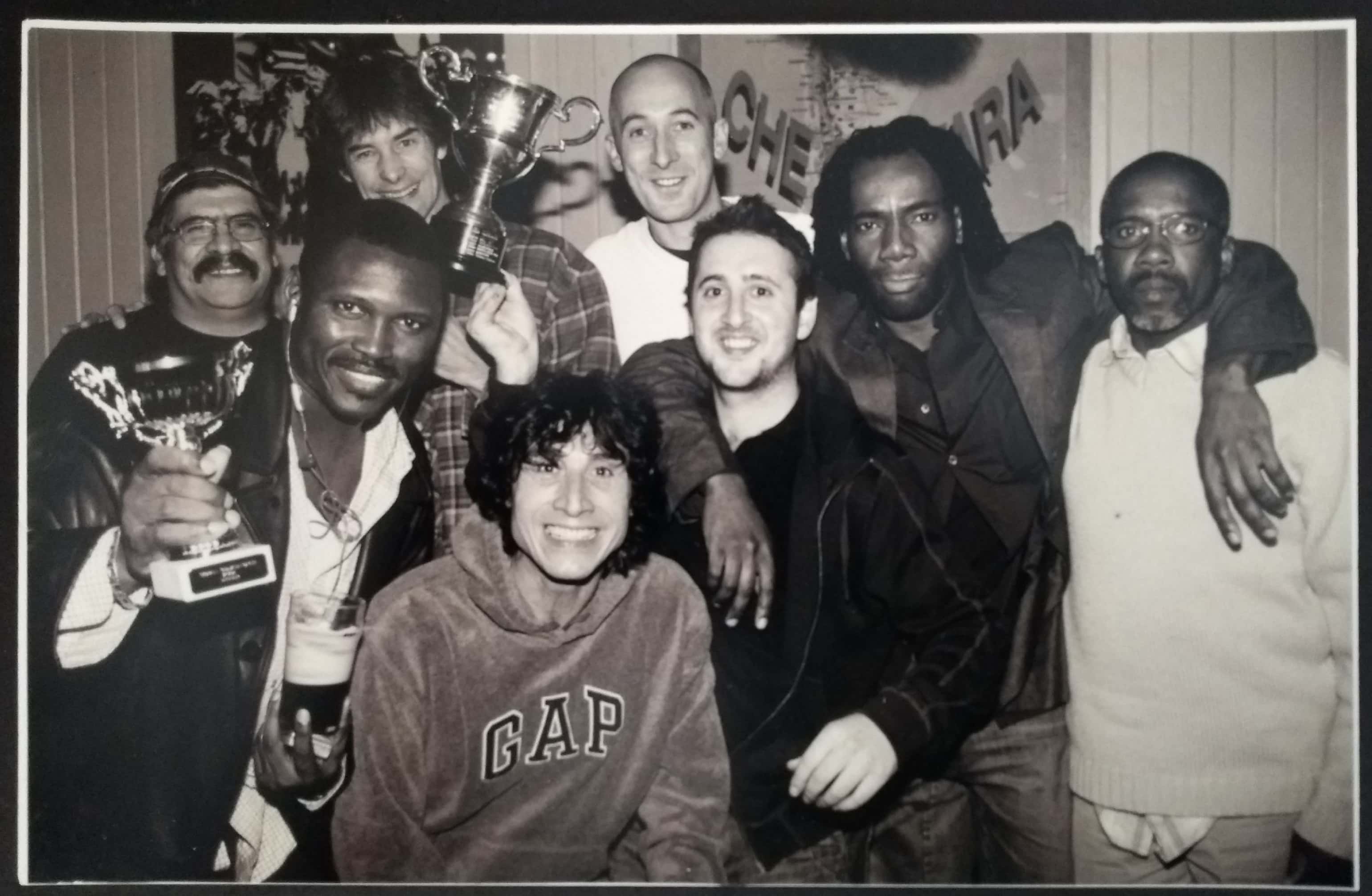 Thanks to Antonio for the picture!
Great News we won the League....

After a little wobble at the end the team stood fast and dug deep to grind out few decisive victories....Oakleigh Pk with all there underhand walkovers and team strengthening couldn't catch the Comandante rebel cause.

A big thanks to Willy and Eddy for sorting out the food and being such good hosts. I wasn't going to include the stats as my poor performance toward the end of the season (losing the last 3 matches) reduced my ratio from 80% to an 50/50 chance of beating my opponent! It gives it a certain randomness which makes me feel unsteady......
anyway here they are...

Thanks for everyone for participating and congratulations...

The star player I think has to go to Kenny who is king of the pile (he won't be getting this email as he's broadband banned these days) by playing in every match and winning most matches overall. Maybe the team can buy him an A-Z for his endeavours.

Anyone who fancies meeting up on Friday the 10th for a few beers at the Palmerston I think were celebrating winning, the winter season, Simon going away (is that right?) Glen being married and general other stuff....

Cheers
-----------------------------------------------------------------------------------------------------------------------------